Welcome to NoSCA

2016
The North of Scotland Cricket Association area covers a considerable part of Scotland extending as it does from Buckie in the East to Isle of Skye in the West and from Caithness & Orkney in the North to Fort William in the South. Within our area there are 14 clubs registered with Nosca (see Clubs menu above for links to our member clubs).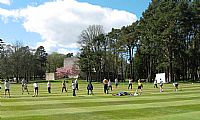 NoSCA run a number of competitions: Senior and Reserve leagues (sponsored by Black Dog Financial Services), Senior and Reserve cups and Senior and Reserve T20 (sponsored by Blake Geoservices).

If you are new to the area or thinking about taking up the game the details of all NoSCA clubs are included on the Clubs pages. If you require any further assistance please contact any member of the Executive
Forres St Lawrence retain
Senior T20 Trophy
Click photo for results

Click HERE for the North Caledonian Inter Area fixture list for young players in the NoSCA area.
Please contact Neil Cameron for more information and to get your young players involved
2016 Senior League
Sponsored by Black Dog Financial Services Ltd
Team
P
W
D
L
Pts
%
Fochabers
13
11
0
2
231
88.8
Buckie
13
11
0
2
231
88.8
Northern Counties
13
9
0
4
206
79.2
Highland
11
8
0
3
172
78.2
Forres St Lawrence
12
8
0
4
183
76.2
Fort William
11
6
0
5
145
65.9
Ross County
9
2
0
7
74
41.1
Huntly
13
3
0
10
93
35.8
Nairn County
12
2
0
10
83
34.6
Elgin
13
0
0
13
46
17.7
2016 Reserve League
Sponsored by Black Dog Financial Services Ltd
Team
P
W
D
L
Pts
%
Nairn County
12
11
0
1
228
95.0
Highland
11
8
0
3
178
80.9
Forres St Lawrence
11
7
0
4
160
72.7
Northern Counties
9
4
0
5
103
57.2
Huntly
10
5
0
5
114
57.0
Elgin
10
4
0
6
105
52.5
Ross County
11
2
0
9
86
39.1
Fochabers
12
2
0
10
91
37.9