Welcome to NoSCA

2016
The North of Scotland Cricket Association area covers a considerable part of Scotland extending from Buckie in the East to Isle of Skye in the West and from Caithness & Orkney in the North to Fort William in the South. Within our area there are 12 clubs registered with Nosca (see Clubs menu above for links to our member clubs).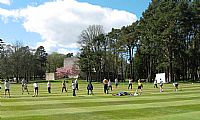 NoSCA run a number of competitions: Senior and Reserve leagues (sponsored by Black Dog Financial Services), Senior and Reserve cups and Senior and Reserve T20 (sponsored by Blake Geoservices).

If you are new to the area or thinking about taking up the game the details of all NoSCA clubs are included on the Clubs pages. If you require any further assistance please contact any member of the Executive
Child Protection
In light of recent media attention we are aware that cricket clubs may have increased anxiety about child protection.
If your club is affiliated to Cricket Scotland you can contact us at 0131 313 7420 or Safeguarding in Sport at 0141 419 1156 for advice, guidance and help. If your club is not affiliated to Cricket Scotland you can contact Safeguarding in Sport.
If somebody raises child protection concerns in relation to a coach/volunteer who is currently practicing then the 'Responding to Concerns' procedure detailed on Pages 21-26 of the Cricket Scotland Child Protection Policy should be followed.
If it is a historical allegation then the same procedure should be followed, record the information and signpost the individual to Police Scotland on 101.
If there are concerns about a child's immediate safety then this should be passed on to Police or Social Work without delay.
Click here for more advice on Child Protection for your club.